Good Morning mi Gente!!!! Buenos Dias !!!
Did you complete your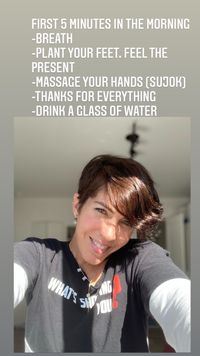 5 minutes in the morning ? Completaste tus 5 minutos de la mañana ?
OK, We have reached the 19th! In this week of Gratitude for growth Today we are going to recap a little. The path of Life is not flat but if we have firm steps and trust in ourselves and the Universe and we maintain Joy, Peace and Love as a standard, we will attract more of that every day because we will learn to face the stumbling blocks focused on light and thanking Life. 
So ... Today I challenge you to see all the stumbling blocks in your Life and find the purpose of them. Then, ... thanks to them for letting you see what you need to see. Then, change your thoughts regarding the situations that are blocking you, go away from victimization and chaotic thoughts. You will feel freedom and peace. And from those emotions you will start attracting better things and all solutions. 
Believe me . IT WORKS like this !!!!.
Repeat exercises from Day 5 and Have a great day !!!!
¡Bien, hemos llegado al 19! En esta semana de gratitud por el crecimiento hoy vamos a recapitular un poco. El camino de la Vida no es plano pero si tenemos pasos firmes y confiamos en nosotros mismos y en el Universo y mantenemos la Alegría, la Paz y el Amor como estándar, atraeremos más de eso cada día porque aprenderemos a enfrentar los tropiezos enfocados. sobre la luz y agradeciendo la vida.
Entonces ... Hoy te desafío a que veas todos los obstáculos en tu vida y encuentres el propósito de ellos. Entonces, ... gracias a ellos por dejarte ver lo que necesitas ver. Luego, cambie sus pensamientos con respecto a las situaciones que lo están bloqueando, aléjese de la victimización y los pensamientos caóticos. Sentirás libertad y paz. Y a partir de esas emociones empezarás a atraer mejores cosas y todas las soluciones.
Créame . Funciona así !!!!.
Repite los ejercicios del Día 5 y ¡¡Qué tengas un gran día !!
Pongamos de Moda la Felicidad 
Betsy