Good Morning !!!!!! 
Welcome to Day 16 of the CHallenge | Bienvenidos al Dia 16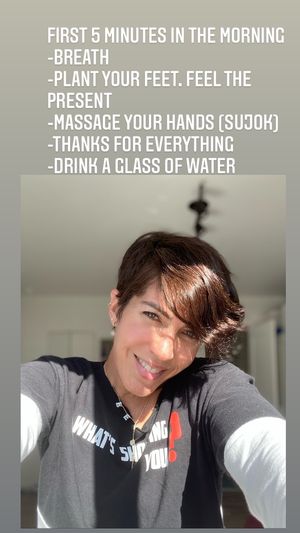 MIS PRIMEROS 5 MINUTOS DE LA MANANA 
RESPIRA
PLANTA TUS PIES Y SIENTE EL PRESENTE.
MASAJEA TUS MANOS ( SUJOK)
AGRADECE POR TODO TODO TODO 
BEBE UN VASO DE AGUA 
Today Repeat exercises from Day 2 !!! Repite Hoy los ejercicios del Dia 2!!!!
 De tarea escribirás hoy una lista de todo lo que suenas para tu vida y agradeces en presente por todo lo que suenas !!! Sientes. Imaginas que ya estas ahi . Sonríes y das Gracias. Quédate con esa emoción !!!!
Today you will write a list of everything you dream of for your life and thank you in the present for everything you dream of! You feel. Imagine that you are already there. You smile and give thanks. Stay with that emotion !!!!
See you later !!! Nos vemos mas tarde !!!!
Pongamos de Moda la Felicidad 
BETSY